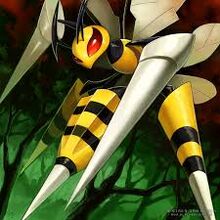 Description
Beedrill mostly resembles a bipedal wasp; however, it only has four legs instead of six and lacks pigment pits. Beedrill's head is round with a slightly pointed mouth, large, red eyes, and antennae in the shape of the number seven. Its forelegs are tipped with long, conical stingers. It stands on its other two legs, which are long, segmented, and insectoid in shape. Beedrill has two pairs of rounded, veined wings, and another stinger on its striped abdomen.
Location
Evolve Kakuna
Evolution
Ability
Swarm: Powers up Bug-type moves under 1/3 of maximum HP.
Sniper: Powers up moves if they are critical hits.
Move Set
Level up (edit)
Lv
Move Name
Type
Category
Pwr.
Cldwn.
Dur.
Acc.
Effect %
Target
10
Fury Attack
15
1.2
85%
Single
2-5 attacks in a row
13
Focus Energy
-
6
Can't Miss
Self
Raises user's critical hit ratio level by 1.
16
Twineedle
25
1.2
-
100%
0.4
Single
2 attacks in a row. May poison the target.
19
Rage
20
100%
Single
22
Pursuit
40
1.2
100%
Single
Damage doubled on slower target
25
Toxic Spikes
40
60
60
Always
Trap
Damages targets walking pass (except Flying-type, Steel-type, Poison-type, Levitate, Magnet Risen pokemons).
28
Pin Missile
15
1.2
-
85%
-
Single
2-5 attacks in a row.
31
Agility
-
3.6
Always
Self
Raises user's Agliity by 2.
34
Assurance
50
1.2
100%
Single
Power doubled when user has less than half HP.
37
Poison Jab
80
1.2
100%
30%
Single
May poison the target.
40
Endeavor
N/A
1.2
100%
Single
Power increases (3-300) with fewer user's remaining HP.
Damage Taken
Main article: List of Pokemon Weaknesses