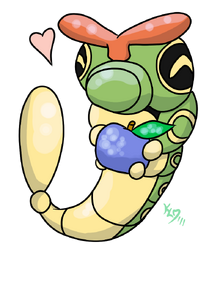 Description
Caterpie is a serpentine Pokémon that resembles the larvae of the Spicebush Swallowtail. It is a green caterpillar with yellow ring-shaped markings down the sides of its body. It also has large yellow eyes with black pupils. Its most notable characteristic is the bright red antenna on its head, which releases a stench to repel predators. These and the large eye-shaped markings help to startle predators. Its feet are tipped with suction cups, permitting this Pokémon to scale most surfaces with minimal effort.
Location
Route 30 (Gold version)
Evolution
Ability
Shield Dust: Blocks added effects from target's attacks.
Run Away: Prevents Pokemon from being turned around.
Move Set
Level up (edit)
Lv
Move Name
Type
Category
Pwr.
Cldwn.
Dur.
Acc.
Effect %
Target
0
Tackle
50
1.2
100%
Single
0
String Shot
-
2.4
-
95%
1
Single
Lowers target's Speed by 1.
15
Bug Bite
60
1.2
-
100%
-
Single
Consumes held berry for its effect if any.
TM / HM moves (edit)
This Pokemon cannot learn any TMs.
Damage Taken
Main article: List of Pokemon Weaknesses