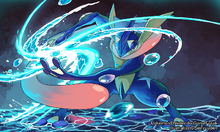 Description
Greninja is a large, bipedal, frog-like Pokémon. Its body and legs are dark blue, with single large white bubbles on its legs and arms and white spots over its eyes. On the sides of each of its upper thighs is a light blue, four-sided star. Its back feet have two toes, while its front feet have three toes. Its feet are webbed, and it has a yellow chest and a yellow-and-blue face. It has eyes with white sclera, red irises, and white pupils. A large, projecting dark blue stripe runs down the middle of its head, with projecting light blue stripes in between its large, yellow ears. Its mouth is hidden behind a large, pink tongue that wraps around Greninja's neck and extends outward behind its head.
Location
Evolve Frogadier
Evolution
Ability
Torrent: Powers up Water-type moves under 1/3 of maximum HP.
Protean: Changes the Pokemon's type to the same type of the move it is using.
Moves
Level up (edit)
Lv
Move Name
Type
Category
Pwr.
Cldwn.
Dur.
Acc.
Effect %
Target
Damage Taken
Main article: List of Pokemon Weaknesses
Community content is available under
CC-BY-SA
unless otherwise noted.