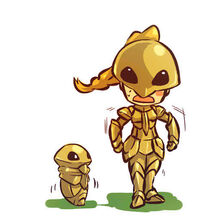 Description
Kakuna is a yellow, cocoon Pokémon. Kakuna has a dome-shaped head and black, triangular eyes. It has two scythe-like arms in the middle of its body. When it comes close to evolving, its body gives off heat that makes it warm to the touch. Kakuna remains virtually immobile and waits for evolution often hanging from tree branches by long strands of silk.
Location
Evolve Weedle
Evolution
Ability
Move Set
Level up (edit)
Lv
Move Name
Type
Category
Pwr.
Cldwn.
Dur.
Acc.
Effect %
Target
0
Tackle
50
1.2
100%
Single
0
String Shot
-
2.4
-
95%
1
Single
Lowers target's Speed by 1.
7
Harden
-
2.4
Can't Miss
Self
Raises user's Defence by 1.
TM / HM moves (edit)
This Pokemon cannot learn any TMs.
Damage Taken
Main article: List of Pokemon Weaknesses