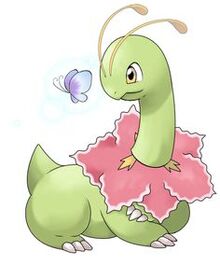 Description
It looks like a green Brachiosaurus dinosaur with a pink and white flower around its neck. It has two long, yellow antennae that look similar to the pistil or stamen of a flower on top of its head. The flower has the ability to calm people and can release toxic pollen, and unlike previous forms, it lacks the leaf on its head and thus its means of attack has changed from shooting leaves and slashing to using solar attacks shot from the yellow antennae on its forehead. It also has small, pointed claws on its feet. The females have shorter antennae than males.
Meganium's breath has the power to revive dead grass and plants. It can make them healthy again.
The fragrance of a Meganium's flower soothes and calms emotions. In battle, it gives off more of its becalming scent to blunt the foe's fighting spirit. Anyone who stands beside Meganium becomes refreshed, just as if they were relaxing in a sunny forest.
Location
Evolve Bayleef
Evolution
Ability
Overgrow: Powers up Grass-type moves under 1/3 of maximum HP.
Leaf Guard: Does not gain status problems in sunny weather.
Move Set
Level up (edit)
Lv
Move Name
Type
Category
Pwr.
Cldwn.
Dur.
Acc.
Effect %
Target
0
Tackle
50
1.2
100%
Single
0
Growl
-
2.4
100%
100/15%
Around
Lower target's Attack by 1.
May turn enemy around.
6
Razor Leaf
55
1.2
95%
Single
Critical hit chance * 2.
9
Poison Powder
-
1.8
75%
100%
Around
Poisons the target when hit.
12
Synthesis
-
60
Always
Single
Heals user of HP based on weather.
(Normal: 1/2; Sunny: 2/3; Rain/Sandstorm/Hail: 1/4)
18
Reflect
-
60
5.4
%
Ally
Reduces Physical Attack damages by half.
22
Magical Leaf
60
1.2
Always
Single
Always hit target (except protected)
26
Natural Gift
N/A
1.2
100%
Single
Power and Type depends on the type of held Berry.
Does not consume the berry.
32
Petal Dance
120
1.2
100%
Single
Confuses the user every 3 attacks.
34
Sweet Scent
-
100%
Single
40
Light Screen
-
60
5.4
%
Ally
Reduces Special Attack damages by half.
46
Body Slam
85
1.2
-
100%
30%
Single
May cause target paralysis.
54
Safeguard
-
60
Always
Ally
Cures status problems and prevents any for 5.4 seconds.
60
Aromatherapy
-
60
Always
Ally
Cures allies of any status problems (Sleep, Poison, Paralysis, Burn, Frozen)
66
SolarBeam
120
2.4
100%
Beam
Shorter move cooldown during Sunny Day.
Damage Taken
Main article: List of Pokemon Weaknesses