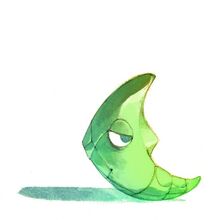 Description
Metapod resembles a chrysalis. Its soft body is protected by a hard outer shell while it undergoes metamorphosis. While this shell is said to be as hard as steel, a sudden, powerful impact could cause its tender body to pop out, leaving it completely exposed. Metapod generally remains motionless, preparing its soft innards for evolution inside its hard shell. If an enemy discovers Metapod, it is unable to do anything other than harden its outer shell.
Location
National Park
Evolve Caterpie
Evolution
Ability
Move Set
Level up (edit)
Lv
Move Name
Type
Category
Pwr.
Cldwn.
Dur.
Acc.
Effect %
Target
0
Tackle
50
1.2
100%
Single
0
String Shot
-
2.4
-
95%
1
Single
Lowers target's Speed by 1.
7
Harden
-
2.4
Can't Miss
Self
Raises user's Defence by 1.
TM / HM moves (edit)
This Pokemon cannot learn any TMs.
Damage Taken
Main article: List of Pokemon Weaknesses