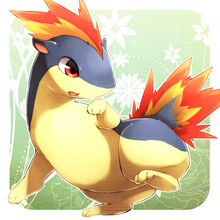 Description
This Pokémon is fully covered by nonflammable fur, and as such, it can withstand any kind of fire attack.
Be careful if it turns its back during battle. It means that it will attack with the fire on its back. Quilava keeps its foes at bay with the intensity of its flames and gusts of super-heated air. This Pokémon applies its outstanding nimbleness to dodge attacks even while scorching the foe with flames.
Location
Evolve Cyndaquil
Evolution
Ability
Blaze: Powers up Fire-type moves under 1/3 of maximum HP.
Flash Fire: Powers up Fire-type moves if Pokemon is hit by one.
Move Set
Level up (edit)
Lv
Move Name
Type
Category
Pwr.
Cldwn.
Dur.
Acc.
Effect %
Target
0
Tackle
50
1.2
100%
Single
0
Leer
-
2.4
100%
100%
Single
Lowers target's Defence by 1.
6
Smokescreen
-
100%
Single
10
Ember
40
1.2
100%
10%
Single
May burn the target.
13
Quick Attack
40
1.06
100%
Single
20
Flame Wheel
60
1.2
100%
10%
Single
May burn the target.
24
Defense Curl
-
2.4
-
Can't Miss
-
Self
Raises user's Defense by 1.
Doubles power of Rollout and Ice Ball.
31
Swift
60
1.2
Always
Single
4 attacks in a row.
35
Flame Charge
50
1.2
100%
Single
Raises user's Speed by 1.
42
Lava Plume
80
2.4
100%
30%
Around
May burn the target.
46
Flamethrower
95
1.8
100%
10%
Beam
May burn the target.
53
Inferno
100
1.2
50%
100%
Single
Burns the target if hit.
57
Rollout
30
1.2
90%
Single
Power increases by 30 for every consecutive successful hit (up to 180), or else power resets.
Defense Curl doubles the Power.
64
Double-Edge
120
100%
Single
Damages user by 1/3 of damage dealt.
68
Eruption
N/A
2.4
100%
Around
Power depends on user's remaining HP. (max. 150)
Damage Taken
Main article: List of Pokemon Weaknesses