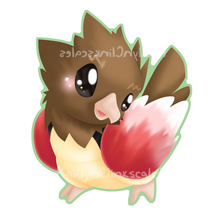 Description
Spearow has a very loud cry that can be heard over half a mile away. If its high, keening cry is heard echoing all around, it is a sign that they are warning each other of danger, and is also a way to protect its territory. It flaps its short wings to flush out insects from tall grass and then plucks them with its stubby beak.
Location
Route 46
Use headbutt on trees (high chance)
Evolution
Ability
Keen Eye: Prevents other Pokemon from lowering accuracy.
Sniper: Powers up moves if they are critical hits.
Move Set
Level up (edit)
Lv
Move Name
Type
Category
Pwr.
Cldwn.
Dur.
Acc.
Effect %
Target
0
Peck
35
1.2
100%
Single
(No additional effects.)
0
Growl
-
2.4
100%
100/15%
Around
Lower target's Attack by 1.
May turn enemy around.
5
Leer
-
2.4
100%
100%
Single
Lowers target's Defence by 1.
9
Fury Attack
15
1.2
85%
Single
2-5 attacks in a row
13
Pursuit
40
1.2
100%
Single
Damage doubled on slower target
17
Aerial Ace
60
1.2
Always
Single
Always hit target (except protected)
21
Mirror Move
-
3.6
Always
Single
Uses any of target's moves. (All move target is corrected to "Single")
Transform is copied from Transformed pokemons without using it.
25
Agility
-
3.6
Always
Self
Raises user's Agliity by 2.
29
Assurance
50
1.2
100%
Single
Power doubled when user has less than half HP.
33
Roost
-
100%3
Always
Self
Heals user 50% of max HP in 5 parts within 5 game ticks.
37
Drill Peck
80
1.2
100%
Single
(No additional effects.)
Damage Taken
Main article: List of Pokemon Weaknesses