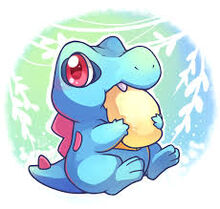 Description
Despite the smallness of its body, Totodile's well-developed jaws are very powerful and capable of crushing anything, and it is a rough and tough Pokémon. While the Pokémon may think it is just playfully nipping, its bite has enough power to cause serious injury. It won't hesitate to take a bite out of anything that moves.
Location
Starter's Choice
Trade
Random chance in every encounter in every invasion
Evolution
Ability
Torrent: Powers up Water-type moves under 1/3 of maximum HP.
Sheer Force: Removes added effects to increase move damage.
Move Set
Level up (edit)
Lv
Move Name
Type
Category
Pwr.
Cldwn.
Dur.
Acc.
Effect %
Target
0
Scratch
40
100%
Single
0
Leer
-
2.4
100%
100%
Single
Lowers target's Defence by 1.
6
Water Gun
40
1.2
100%
Single
(No additional effects.)
8
Rage
20
100%
Single
13
Bite
60
1.2
100%
30%
Single
May cause target flinch.
15
Scary Face
-
100%
Single
20
Ice Fang
65
1.2
95%
10%
Single
May freeze and/or flinch the target.
22
Flail
N/A
1.2
100%
Single
Power increases (20-200) with fewer user's remaining HP.
27
Crunch
80
1.2
100%
Single
May lower target's Defense by 1.
29
Chip Away
70
1.2
-
100%
-
Single
Damage does not depend on Defense/ Sp. Defense stat and buffs.
34
Slash
70
100%
Single
36
Screech
-
85%
Single
41
Thrash
120
100%
Single
43
Aqua Tail
90
1.2
90%
Single
(No additional effects.)
48
Superpower
120
1.2
100%
100%
Single
Lowers user's Attack and Defense by 1.
50
Hydro Pump
120
1.8
80%
Beam
(No additional effects.)
Damage Taken
Main article: List of Pokemon Weaknesses