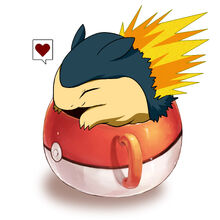 Description
Typhlosion obscures itself behind a shimmering heat haze that it creates using its intensely hot flames. This Pokémon creates blazing explosive blasts that burn everything to cinders. If its rage peaks, it becomes so hot that anything that touches it will instantly go up in flames.
When heat from its body causes the air around it to shimmer, this is a sign that it is ready to battle. It attacks using blasts of fire. It has a secret, devastating move: it rubs its blazing fur together to cause huge explosions.
Location
Evolve Quilava
Evolution
Ability
Blaze: Powers up Fire-type moves under 1/3 of maximum HP.
Flash Fire: Powers up Fire-type moves if Pokemon is hit by one.
Move Set
Level up (edit)
Lv
Move Name
Type
Category
Pwr.
Cldwn.
Dur.
Acc.
Effect %
Target
0
Gyro Ball
N/A
1.2
-
100%
-
Single
Slower the user is, higher the power is. (=25*T/U, max. 150)
(buffs/ debuffs would affect the speed)
0
Tackle
50
1.2
100%
Single
0
Leer
-
2.4
100%
100%
Single
Lowers target's Defence by 1.
6
Smokescreen
-
100%
Single
10
Ember
40
1.2
100%
10%
Single
May burn the target.
13
Quick Attack
40
1.06
100%
Single
20
Flame Wheel
60
1.2
100%
10%
Single
May burn the target.
24
Defense Curl
-
2.4
-
Can't Miss
-
Self
Raises user's Defense by 1.
Doubles power of Rollout and Ice Ball.
31
Swift
60
1.2
Always
Single
4 attacks in a row.
35
Flame Charge
50
1.2
100%
Single
Raises user's Speed by 1.
43
Lava Plume
80
2.4
100%
30%
Around
May burn the target.
48
Flamethrower
95
1.8
100%
10%
Beam
May burn the target.
56
Inferno
100
1.2
50%
100%
Single
Burns the target if hit.
61
Rollout
30
1.2
90%
Single
Power increases by 30 for every consecutive successful hit (up to 180), or else power resets.
Defense Curl doubles the Power.
69
Double-Edge
120
100%
Single
Damages user by 1/3 of damage dealt.
74
Eruption
N/A
2.4
100%
Around
Power depends on user's remaining HP. (max. 150)
Damage Taken
Main article: List of Pokemon Weaknesses